Thursday, October 05, 2006
Adieu
come with me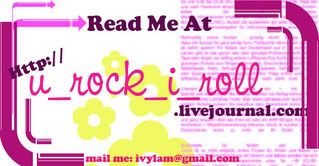 moving to lj because it gives me options : private
ornot
because its time to be honest
i want to let you read me the way i am
see my life the way it is
and there is no way i could do it here anymore

when im more comforted, i might tell u why.
but for now, read me at my new place :)

Posted by Ivy at 5:02 AM
Tuesday, September 26, 2006
when life throws u too many curveballs in succession
the realization jolted through me.
time to wake up


must.learn.to.appreciate.
in the past months i have been feeling resentful over the way the Almighty made us-powerless to control our existence, without even the opportunity to decide when to let it all go.
we were made to live, and live we should
.
yet there are so many struggling with their next breath, with the determination to last as long as possible. i feel superflous, like
i am superflous.
so jaded i wake up not knowing why im here. i can only see the beauty in the person next to me, yet afraid it'll disappear within a blink. holding my hand, reassuring me over and over again.
am i really the older one?
Posted by Ivy at 6:34 AM
Monday, September 25, 2006
it aint supposed to be here
my recent stuff,pretty obvious it was done on a whim when i was broody.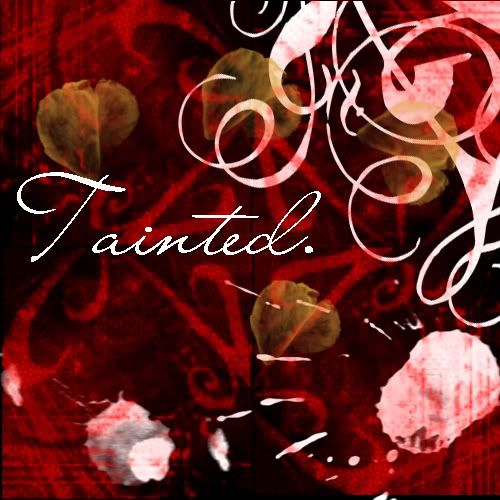 far from perfect,the brushes arent aligned properly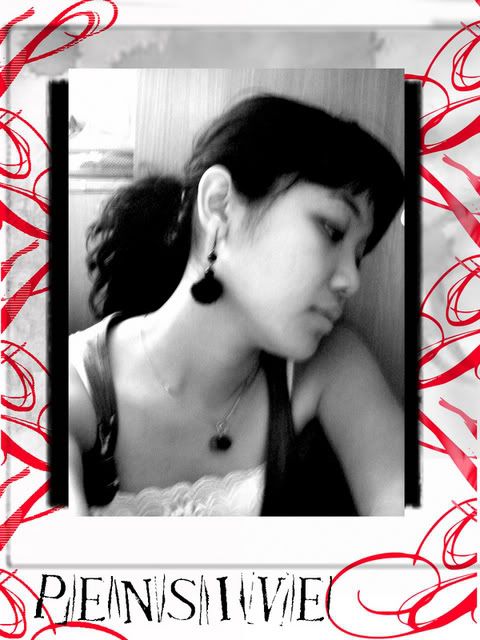 did a b&w on a colored photo..
bedtime for the kid .haha kidding.
Posted by Ivy at 5:14 AM
Friday, September 22, 2006
it has been too long
am sick,coughing n coughing and it somewhat impairs my ability to lead
my
normal lifestyle.
hopefully in a little longer (fingers crossed) we will move to a better newer place :)
i love u all.
Posted by Ivy at 11:45 AM
Sunday, September 10, 2006
when u stopped holding me tight
i haven't felt this unwanted for the longest time ;(
Posted by Ivy at 9:56 AM
Saturday, September 09, 2006
oh but the joys of retail therapy
spending money brings me shortlived pleasure-having bought a hoodie which mildly advertises branding....err Starbucks it is (lol) hell yeah, i love starbucks and i've just spent 200 odd grivs to look like an employee(though im still keeping my fingers crossed that i look
better than that)

i love the coke shirt.
and its real coke as in coca cola not the cocaine one.
woke up feeling bad today.
sometimes i feel that there is nothing obvious for me to be sad about but this sadness thing is tricky..it seeps into spaces u least expect and then....
the rest is history.
neurotism takes over
and i start sulking :/
i think i need a lifestyle of just eating fries n drinking Rhumba (now defunct) with the mouse. and maybe shopping with chen.and eating fajitas too big a serving with bottomless juice at Chilli's.and then finish it with chocolate cake from Delicious.
maybe then i'll have less to whine.. XD
in the mean time,just treat me like a child and feed me chocolates.
Posted by Ivy at 11:33 PM
Tuesday, September 05, 2006
remembering you
memories.
sometimes i wonder if its better that it exists or would life be sweeter if the knowledge of everything we've done just evaporates,never to be thought of again
listening to songs i used to love reminds me of the past.it is a comfortable feeling of familiarity laced with fear of reliving the very incidents which had me in tears.
i have this deep seeded fear that i'm losing myself and will never be completely me again.
the fact that i could sing along to songs i loved..is just so contrary of me unable to even 'listen' out the lyrics to songs these days.i have this disability to hear the lyrics sung.i only hear the melodious tune of songs, and i enjoy them without understand its lyrics.
i crave solitude yet i m accustomed to company.
its sometimes so painful just to listen to songs.
Posted by Ivy at 11:39 PM
Tuesday, August 29, 2006
i do not want to be here either.
wait.wait.wait.
*beep*
no need to wait anymore.
isnt it amazing how ur fingers tap faster and ur mind goes overdrive when anger tempts?
i know, it's difficult and i really hate being vague.but being straight to the point has never been my forte, as chen n the mouse would know.gah.i miss them,maybe its time to open gmail and rant instead of this very public display of behsongness.
Posted by Ivy at 1:56 AM
just because
dont blame me for being a woman just because pms follows me like a plague, and never fails to show up each month.
come to think of it,of all things constantly changing in my life, this is a permanent feature..
sigh.the irony of life.
Posted by Ivy at 1:45 AM
Sunday, August 27, 2006
it's just about time
i wiggle my toes 258937547987239847 times
yawn a couple of million more
shed a tear or two
flop around my bed-oh they call it
tossing n turning
drink many sips of water
check n recheck my phone-yes the tapping one
pulling the wedgie my thong creates on my ass crack
sigh.
the struggle to fall asleep.
Posted by Ivy at 3:22 AM
Thursday, August 24, 2006
hold my hand and let me fall asleep feeling safe
back fr jb,with grandma in tow.am i glad or what(im really!) i pestered mom to let grandma follow us back.mrs lam was worried about grandma being fussy(sounds familiar?now u know where i get the gene fr) with her food and how i must cater to her every need.
and i said ok.
so i'll be busy(i think) catering to grandma's needs.which is refreshing i guess since it's ever so often that other people cater to mine,and hardly ever vice versa.
julian replied my text 10 days late.i was lazy to tap (tap because that's how my phone is-it only allows tapping,not typing) a reply and he sent me another. that poor math teacher of mine needs some attention fr me but im here,still too lazy to tap a bloody reply.
i dont know why my sentences are punctuated by too many ()s its hella irritating but i dont know (for the moment) how to explain certain things better without them.
im up again and im waiting for the feeling of drowsiness to come over me and i hate waiting alone in the darkness with only my wonky babypillow and a thin blankie to cover me so im here.again.at odd hours like now.
i better get myself asleep soon as i have promised my mom i'll take care of grandma(see im taking this taking care of grandma business very seriously) and that means i'll have to make sure she has her breakkie and her pills on time later in the morning.
sigh.
is honesty an overrated virtue or is love an excuse for everything?
thank you lovely people for ur congratulatory greetings.i cant say i didnt expect us to come this far because i had every intention to make it work.and it was due to these intentions of mine that we had a rough start.let's save this for another day (but ur welcome to email me and ask me exactly what im talking about)
and now i shall try to fall asleep.
p/s:falling asleep alone at night makes me feel lonely :/
Posted by Ivy at 3:02 AM